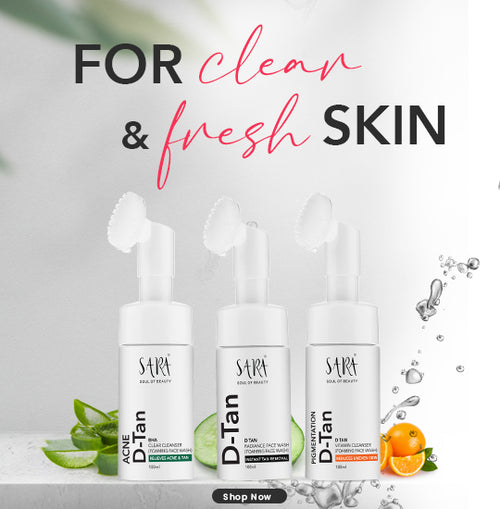 Cleanser

Collections:

Why should you use

What is a cleanser?

The first thing you do in your skincare routine is cleansing. As it helps in removing all the dirt from your skin and cleanses your skin. Having a perfect Cleanser is needed in your skincare routine.

Why should you use Sara Face Cleanser?

SARA Face Wash and cleanser are suitable for all skin types. It helps in the deep cleansing of open pores while removing excess oil from the face. It leaves you with glowing skin and even skin tone. It even addresses the problem of skin tan.

It helps to reduce and protect skin from tanning caused due to exposure to the sun and other polluting agents. It provides a refreshing, oil-free, and even skin tone. It also helps to rejuvenate, nourish and soothe tanned skin.

Why Face Cleanser is good for your skin?

Deep Cleanse And Remove Tan - This face wash helps in deep cleansing of your skin and it removes Tan & blemished skin.

Remove Excess Oil - It removes excess oil and gives you glowing skin.

Instant Glowing Skin - It provides instant brightening and lightening benefits.

BEST SARA FACE CLEANSER

Sara Oxy D-Tan Mask:Sara Oxy D-Tan Mask is perfect for all skin types. This beauty enhancer removes dirt and blackheads. Its potent ingredients aid in penetrating your skin and extracting excess oil from your face.

Sara Gold Facial kit: This facial kit includes all ingredients which pamper and revives your skin. It gives you younger-looking and glowing skin. Gold Cleansing is infused with anti-oxidants that leave radiant skin. This cream provides nourishment to your skin.

Sara Green Apple Facial kit: SARA Green Apple facial Kit is enriched with the goodness of Fruits. It also helps in proper nourishment of the skin and eliminates dark circles to a great extent. It is a rich source of antioxidants that naturally prevents skin damage.

FAQs

What does Cleanser do?

A facial cleanser washes away makeup, dead skin cells, excess oil, and pollutants.

Are Cleanser and facewash the same thing?

Yes, as they both do the same thing which is to wash away the makeup, oil, dirt, etc.

Which is the best cleanser?

Sara Radiance D-tan facewash is the best face wash to remove all the dirt, dust, and impurities from the skin.

When should I apply face wash?

To get the best result, you should use face wash once in the morning before moisturizer and use it once before bed.

Is it good to use face wash every day?

Yes, it is good to use facewash every day but you should not use it more than 2 in a day.

Which is the best face wash to remove the tan from the skin?

You should use the Sara D-tan radiance facewash to get tanned-free skin.

Should I wash my face after using Cleanser?

Yes, you should always cleanse your face completely, leaving this could lead to dryness in your skin.

What should I apply first on my face?

You should begin your skincare regime with cleanser first.