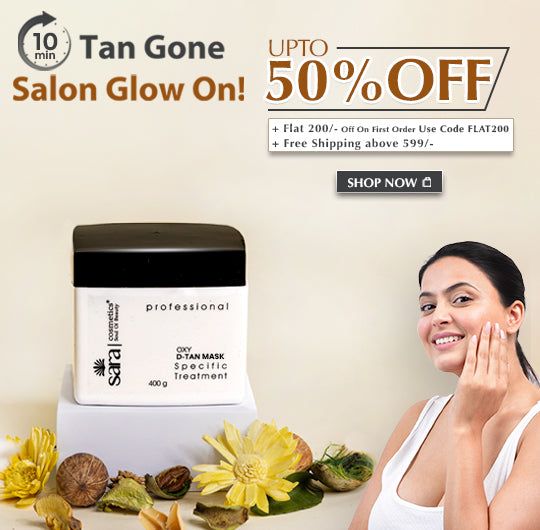 Pigmented

Collections:

Why should you use

What is Pigmentation skin?

Pigmentation happens when your skin starts changing color. The skin becomes patchy with dark color. This problem happens because of melanin which is made by cells in the skin. To get rid of this problem, you need a good to cleanse.

How does Sara product help in removing pigmentation skin?

All Sara product helps in the deep cleansing of open pores while removing Tan & dead skin from the face. It's an absolute solution to get pigmented-free skin. It leaves you with radiant and clear skin after regular use. It includes all ingredients which pamper and revive your skin.

Best Sara Products for pigmented skin

Sara Oxy D-tan Scrub: This Scrub gives instant brightening and lightens the skin tone while exfoliating skin, removing the tan from the skin and making it look fairer and younger. This cleanser has 8 benefits in just 1 jar as it hydrates, nourishes, soothes, calms heals, whitens, brightens, and lightens the skin.

SARA Green Apple facial Kit: This facial kit is enriched with the goodness of Fruits. Green Apple helps in slowing down the aging process and enhances overall beauty. It also helps in the proper nourishment of the skin and eliminates dark circles to a great extent.

Ubtan D-tan facemask: This facemask is the best source to get flawless, healthy, and bright skin. With its potent anti-inflammatory and antioxidant ingredients, it helps lighten and fade dark spots on the skin.

FAQs

Which skin care is good for pigmentation?

Pigmentation, dark spots or dull skin are some of the most common skin issues, we all must face at some age. Try herbal ingredients infused with Vitamin- C & Turmeric Glow Ubtan mask to effectively lightens dark spots, acne scars, and uneven skin tone.

Is Vitamin C good for hyperpigmentation?

Applying Vitamin C to the skin will slowly fade away the potential enzymes of hyperpigmentation as long as the skin is also protected from harmful sunlight.

Which mask is best for dark spots and pigmentation?

Sara Oxy D-tan mask is best for open pores, tanned skin, dark spots, and pigmentation.

What causes pigmentation on the skin?

Hyperpigmentation is caused by an increase in melanin. As melanin is the natural pigment that gives our skin, hair, and eyes their color.

Does pigmentation go away?

Hyperpigmentation can go away on its own, dependent on the cause, but it may take a long time to fade. You can also remove the pigmentation by scrubbing your skin in a weekly manner.

How can I prevent pigmentation?

You can prevent pigmentation instantly through cleansing, scrubbing, and masking.

Why is my face becoming darker?

Darkened areas on the skin are the main symptoms of hyperpigmentation. Patches can vary in size and develop anywhere on the body. The biggest risk factors for general hyperpigmentation are sun exposure and inflammation.

Is lemon good for hyperpigmentation?

Yes, lemon is good for the skin, as it helps to exfoliate the skin and remove dark spots. The Lemon facial kit is the best facial kit to get rid of this hyperpigmentation.