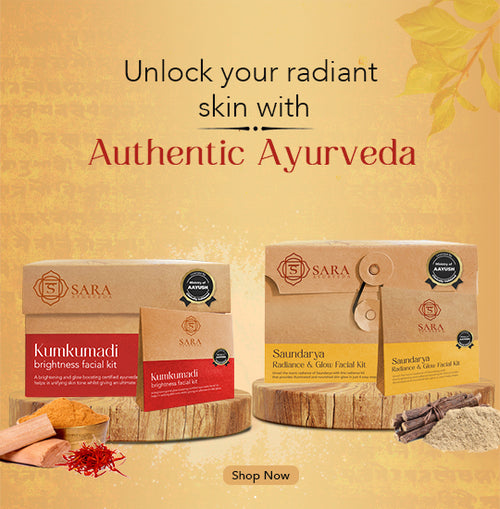 Facial Kits
 

Collections: F

acial Kit for Women & Men - SARA Bridal Glow Facial Kit,  Green Apple, Orange facial Kit, Banana facial Kit

Why should you use

What is a Facial kit?

Cleansing is not enough for your skin, your skin needs a deep cleaning. A facial kit helps in deep cleaning and gives you glowing skin. To remove all the dirt and dust, a full cleaning is needed. A facial kit is one solution to your several problems. From cleansing to moisturizing the skin, it's an absolute solution for getting perfect glowing skin. It helps you to get flawless and healthy skin.

Why should you use Sara's Facial kits?

Sara's Facial kit is an ideal solution for all sorts of skin types to let them have a flawless and seamless texture along with whitening and brightening benefits to glow on their special day. All containment of this kit works together to brighten, moisturize, purify and remove tan from the skin. A facial kit is a perfect solution for pampering your skin. Take all pollutants off your face in an easy way by using this unique bridal facial kit that gently repairs and moisturizes your skin with its powerful ingredients to reveal smoother, cleaner, and more radiant skin.

Why Facial kit is good for your skin?

Prevent aging - As you get older, your skin changes, therefore it's important to take good care of it from a young age. Therefore, deep washing of your skin is crucial. It can be avoided by getting facials because they encourage collagen formation and skin cell regeneration.

Heals acne and acne spots - Oil and dead skin cells clog skin pores, which is the main cause of acne. It's crucial to clean up acne. Regular use of cleansers can aid in preventing skin acne. A facial kit prevents acne through deep cleansing of your skin.

Detoxifies skin - Oil and dirt build up in the pores of your skin and are challenging to remove with a cleaner. A facial kit aids in pore cleaning and skin detoxification by removing dirt and other pollutants.

BEST SARA FACIAL KIT SARA

Banana Facial Kit: This facial kit is suited for dry, normal, and combination skin types. It effectively helps in reducing wrinkles and provides moisture and hydration. Banana has amazing anti-aging properties.

SARA Green Apple facial Kit: This facial kit is enriched with the goodness of Fruits. Green Apple helps in slowing down the aging process and enhances overall beauty. It also helps in proper nourishment of the skin and eliminates dark circles to a great extent.

SARA Orange facial Kit: This facial kit includes all ingredients which pamper and revive your skin. SARA Orange facial Kit is enriched with the goodness of Fruits. The ingredients like Orange, Aloe-Vera, and Vitamin C work very well to enhance uneven skin tone.

FAQs

What is the best facial kit for glowing skin?

Sara facial kit is the best facial kit to get instant glowing skin in just one use. SARA Orange facial Kit is enriched with the goodness of Fruits.

Is facial good for your skin?

Yes, facials are good for the skin, as they deep cleanse and exfoliate the skin cells. Doing a facial helps the skin to get brighter and healthy skin.

How many days will the facial last?

The facial can last for several weeks, depending on the skin. Usually, the result of the skin lasts for 4-6 weeks for most skin types.

Can I do a facial every week?

Using a facial more than 2 in would be not beneficial for the skin, as it damages skin and dehydrates skin.

Does facial make skin glow?

Facials are the best way to rejuvenate dull, tired-looking skin and provide instant brightening effects.

Can I use moisturizer after the facial?

Yes, you can use a gentle moisturizer to replenish and lock in that moisture.

How to make your skin facial kit ready?

To get better benefits, you must wash your face with lukewarm water before applying the facial kit to your skin. Clean skin and open pores help to loosen the dirt build-up and allow easier suction. I am having a skin condition;

would I be able to use the facial kit?

Consult with your doctor or skincare professional if you have any pre-existing skin conditions before using the O3+ Facial Kit.