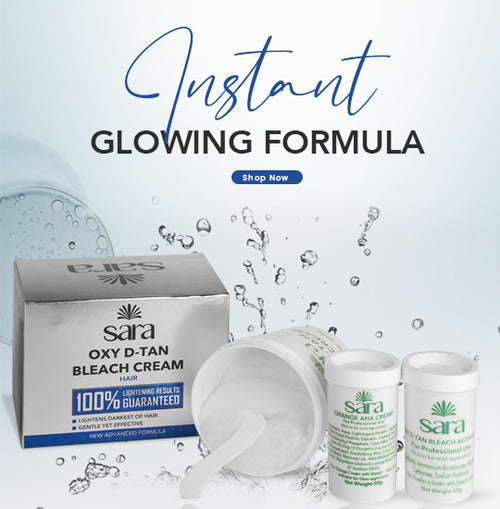 Bleach
 

Collections:

Why should you use

What is bleach?

Face bleach is a cream that lightens your facial hair, and makes your face appear brighter and fairer. Dark areas, an uneven skin tone, and pimples are some common skin problems. But the good news is that you can reduce these problems by using bleaching. If you know how to safely bleach your skin and what substances to use, you can do it at home with ease.

Why should you use Sara Bleach Products?

All Sara cream has excellent properties of lightening skin & hair without making the skin dry. This product is peroxide free, hence does not irritate the skin. Bleach cream instantly lightens your facial hair, and makes your face appear brighter and fairer.

Why Bleach cream is good for your skin?

Lighten the skin: Using this bleach helps to lighten skin and hair without making it dry.

Peroxide free: As all Sara bleach product is peroxide free, hence it does not irritate the skin.

Remove tan: It perfectly removes the tan and dark spots.

BEST SARA BLEACH

Sara Gold Bleach Cream: The offered oxy bleach gives more fresh active oxygen to the face and makes dull, dark, and lifeless faces come alive instantly. This kit helps to brighten and nourish skin to solve problems with Dark Spots, Uneven skin tone, Dull Skin, Dead Skin Cells, and Sun Tan for naturally radiant skin.

SARA oxy D-tan Bleach Cream: Glowing skin is just a few steps away as you get rid of the awful tan that has marred your flawlessness with frequent trips in the sun. Let the power of oxygen boost your gorgeousness. Sara Herbal Oxygen D-tan Bleach Cream.

SARA Oxy Bleach Cream: Sara Oxy Bleach Cream is one solution to remove the tan. It helps remove dead skin cells and blackheads. Using this can help you to get flawless and beautiful skin in just one step.

FAQs

Which bleach is best for the face?

Facial hair for women is somehow unappealing. Where waxing is not suitable for sensitive facial hair. We recommend you try Sara Gold Bleach cream to prevent tanning and facial hair without making your skin dry.

Can I bleach my chin hair?

Yes. Whatever your reason for applying bleach to your face, the process is simple and easy to do at home.

Can we apply the gel cream after bleaching?

Yes. You can apply the Sara Mint massage gel for instant hydration and reduces the appearance of uneven skin.

How many times use bleach on your face?

We recommend you use bleach once a month. Using bleach very often causes your skin too thin too soon.

Can I apply bleach on pimples?

No. We suggest you do not apply bleach to your pimples because bleaching makes the skin sensitive that may cause harm to your acne skin.

Can bleach remove tan?

The bleaching cream does remove tanning from the skin and helps to improve the skin complexion instantly.

What should I avoid during bleaching?

Do not apply bleach cream around the eyes, lips, and private parts of the body. Do not step out in the sunlight after applying bleach. whenever you step out, Use a broad-spectrum sunscreen with SPF 30 protection to protect your skin.

Does bleach make skin darker?

No, but if you use too much bleach, it can lead to patchy, uneven pigmentation and make the skin darker in places.